Roseau River Watershed District
Overall Plan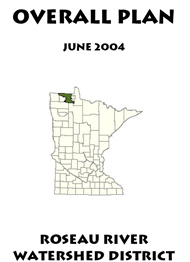 The information contained in th is overall plan was gathered from many sources, the most important being local input. During the development of this overall plan, the Roseau River Watershed Board of Mangers held meetings to gather concerns of local citizens. Advisory committees were formed and met monthly over 18 months to identify issues, concerns and solutions that address water problems in the Roseau River Basin. One group was a Citizen's Advisory Committee (CAC) and another group was a Technical Advisory Committee (TAC). Both of these committees worked very hard to identify problem s and offer solutions to im prove water management issues in the Roseau River Basin.
For additional resources please see some potential empoundment sites, Appendix 13, and the HEC-1 Hydrologic Model.
In June of 2004 the Roseau River Watershed District (RRWD) Board of Managers approved the District's Overall Plan. That document encapsulates the history, general information, existing conditions, goals and sub-watershed implementation plans of the District at that time. The Overall Plan has served as a guidance document as the District has worked toward achieving the outlined goals. Watershed Management Plans are intended to be updated every 10 years. On September 26, 2012 the District's Plan update deadline was extended to April of 2019. This extension was to allow synchronization with the Watershed Restoration and Protection Strategies (WRAPS) process, and a new planning program called One Watershed One Plan (1W1P). The 1W1P process is meant to bring together all management plans that lay within a watershed's geographic boundary. Due to delays in completing the WRAPS report and the demands on state agency staff with other 1W1P plans in progress, the RRWD requested and was granted a new extension until December 2023 with a required amendment to the 2004 Overall Plan to be completed by June 30, 2020. Click here for more information on the March 2020 Management Plan Amendment.
The ammendment to the Overall Plan (June 9, 2020) can be found by clicking here.